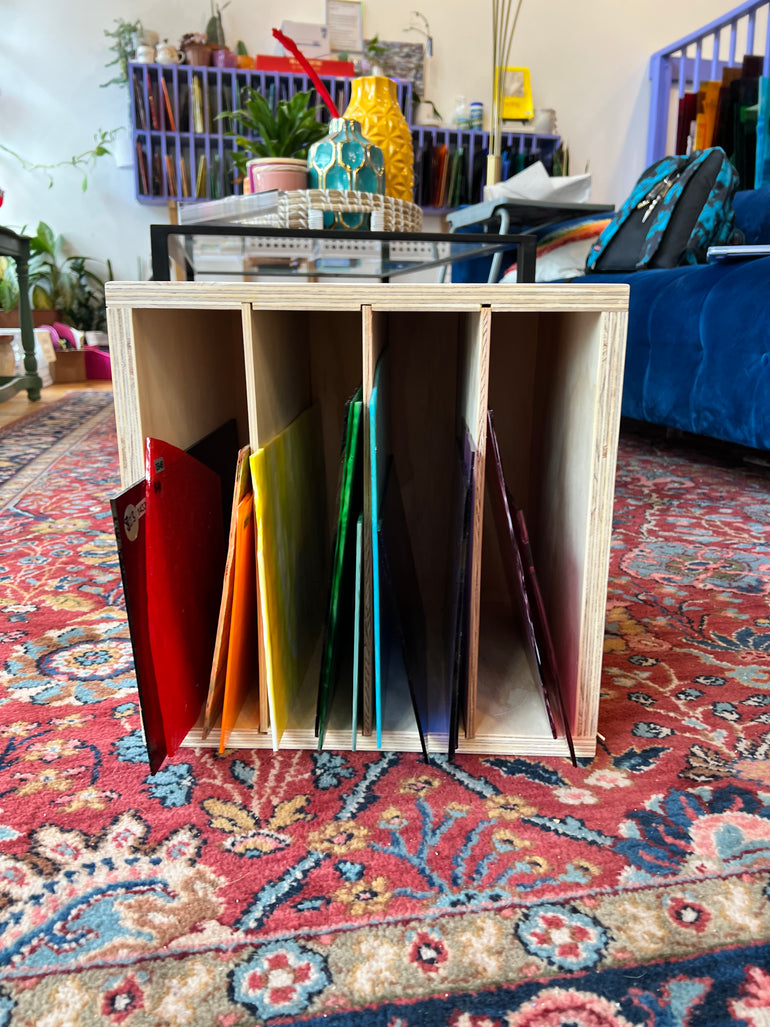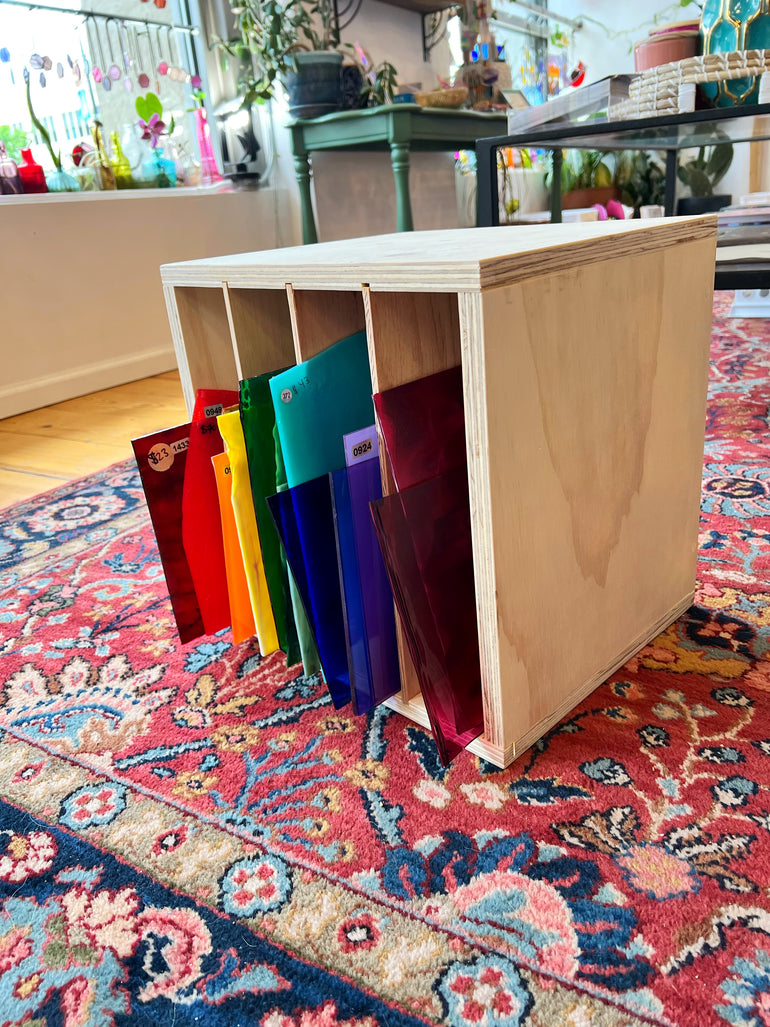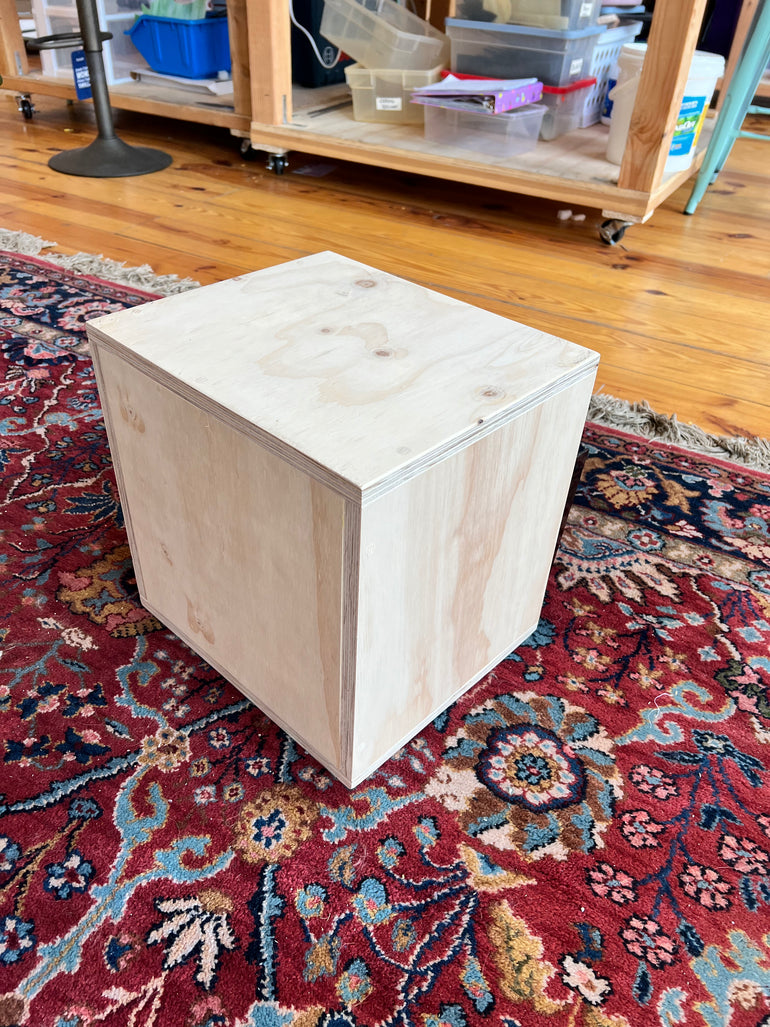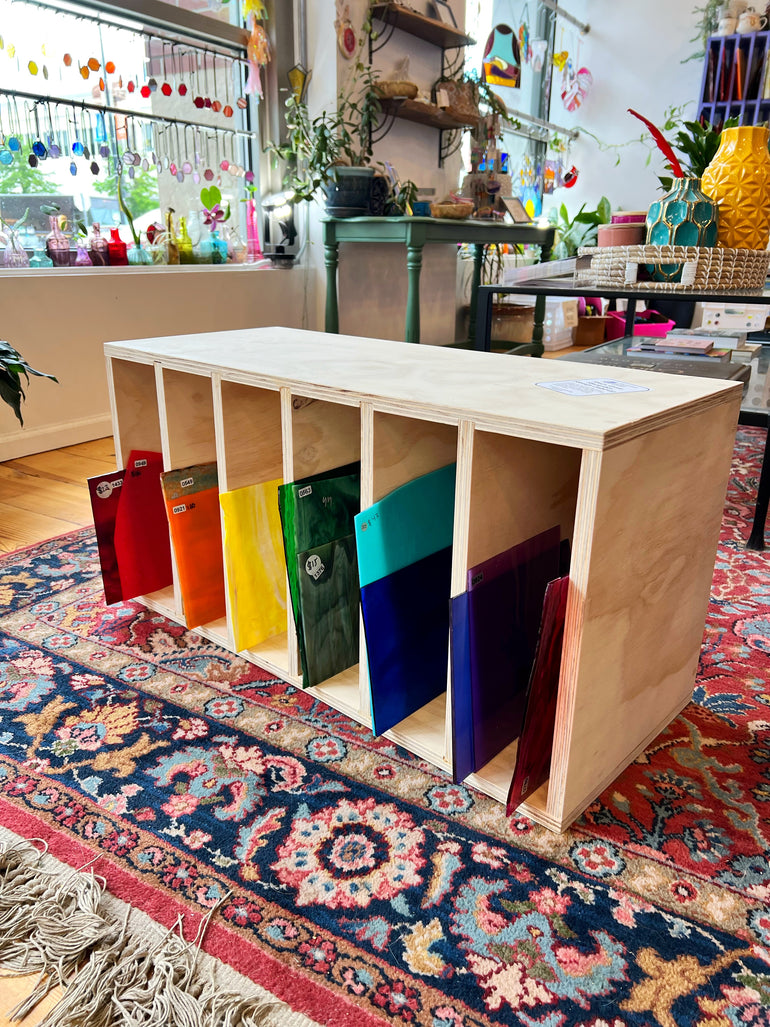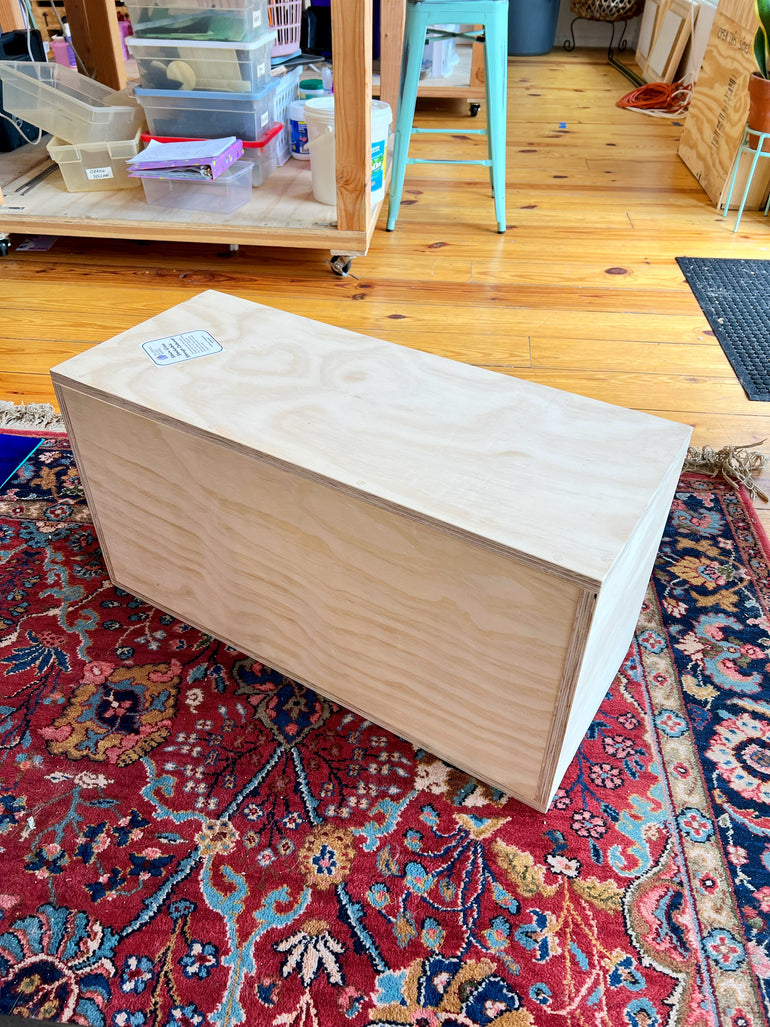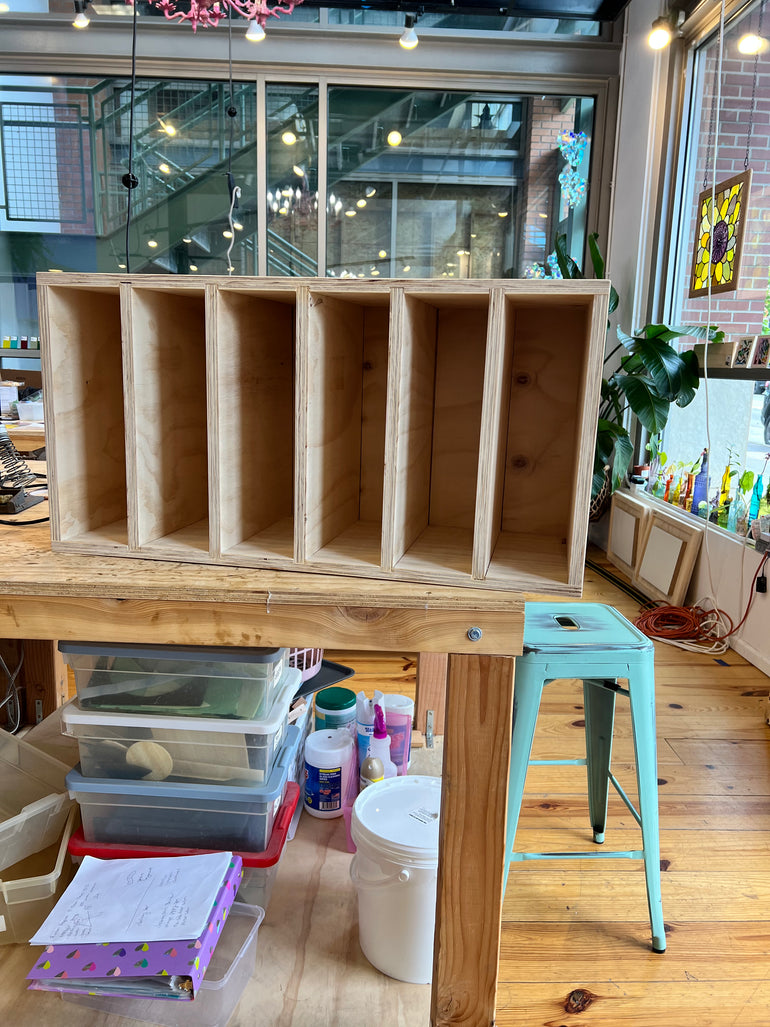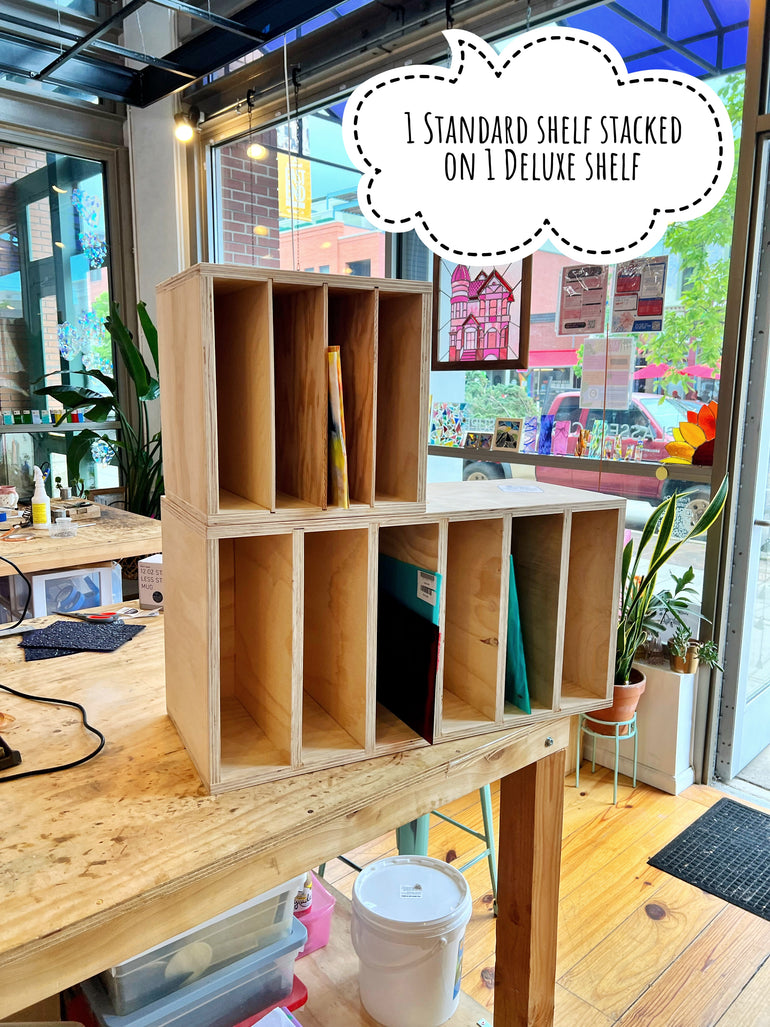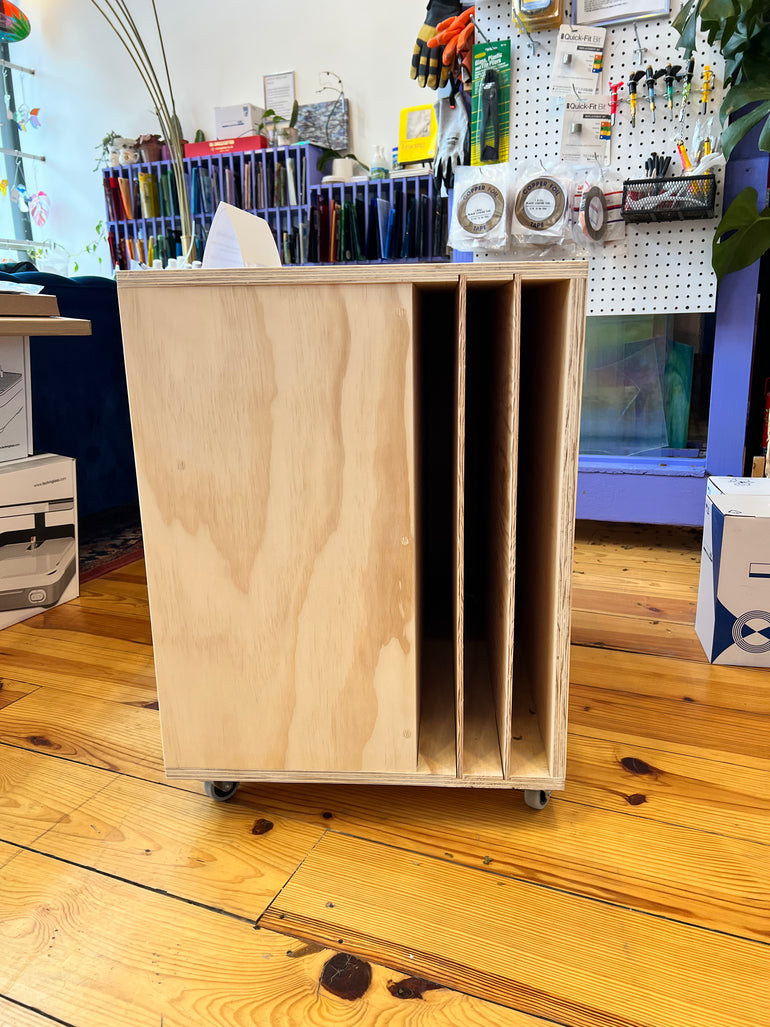 Made-To-Order Stained Glass Storage Shelf (variety of sizes)
This is a made to order so your shelf will take time to be made :)! Please allow 2-3 weeks fabrication time + shipping time once your order is completed 
Looking for a means to store your sheet glass? We are here to help with our custom wood shelves! We are offering USA made storage shelves in a great variety of sizes and price points. The standard and deluxe cabinets are designed to store 12" x 12" glass sheets and are made of super sturdy construction to support stacking (no more than three tall) as your glass collection grows. The plywood finish is sanded to accommodate staining or painting as you desire. They are handmade in Colorado USA and they come in 3 different sizes in 4 different options. Shelves can be stacked. US shipping is FREE. Can ship internationally - message for cost estimates.  
Standard (unbuilt) - For our folks looking to get the best bang for their buck and willing to do a little bit of building to save a bit on the cost. Approximate Dimensions: 13 3/4"H x 13 3/4"W x 12"D made with plywood dividers. Will come disassembled with parts and directions to assemble - $130 USD 
Standard (built) - A pre-built glass storage cube - ready to use when you unpack! Size is 14" x 14" x 12" made with plywood dividers - $190 USD 
Deluxe (built) - Have a little more glass and need more space? Our deluxe is about double the size and ready to store all your glass. Comes pre-built and ready to use when you unpack.  13 3/4"H x 30 3/4"W x 12"D - $300 USD
Custom (built) - For our glass folks looking for a full storage set up. Can be customized to your liking with shelves and slots. Three shelves are on the top and slots for glass all along the bottom line the shelf. A large hidden slot in the back of the cabinet for large sheets. This unit comes on wheels and can be moved. Additional storage and drawers can be added for a cost. Base model starts at $1,250 USD
If you are local to Colorado and want to help us reduce our carbon footprint you can use this code (LOCALPICKUP) to save $20 - this is ONLY if you are local and going to pick up your unit. DO NOT USE THIS CODE IF YOU ARE SHIPPING YOUR UNIT - we will contact you and have you pay the difference :) this is us trying to discount your order for being eco-friendly!! 
FREE US SHIPPING on orders over $100 USD, any international orders you are responsible for duty fees and extra shipping costs. Any over charge for shipping will be refunded once actual shipping is calculated!
---
Made-To-Order Stained Glass Storage Shelf (variety of sizes)